The Department of Medicine
Mark S. Rasnake, MD
Assistant Professor
Residency Program Director
Division of Infectious Diseases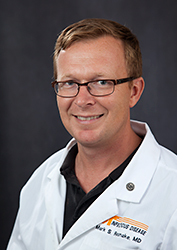 Education
Medical School
University of Tennessee, Memphis TN, 1998
Residency
Wilford Hall Medical Center, Lackland AFB, TX, 2001
Fellowship
Infectious Diseasem, Wilford Hall Medical Center, Lackland AFB, TX, 2004
Certifications
Internal Medicine
Infectious Disease
Professional Affiliations
American Board of Internal Medicine
American Board of Internal Medicine - Infectious Diseases
Current Publications
Jiao Y, Rasnake MS, McCormack MT, Turner JF.
Ehlers-Danlos syndrome with infective endocarditis: A case report with literature review. IDCases. 2019;15:e00484.
Current Presentations
Frisbee J, Rasnake M, Heidel R. Adverse outcomes associated with potentially inappropriate antibiotic use in heart failure admissions. Presented at IDWeek; 2018 Oct 3-7; San Francisco, CA.
Kozlovski CA, McCoy JM, Rasnake M. By the skin of his teeth. Presented at American College of Physicians (Invited Lecture); 2018 Oct 26-27; Chattanooga, TN.
Holbert JC, Rogers BA, Rasnake MS. Getting to the HEART of the matter: A retrospective review to reduce unnecessary chest pain admissions. Presented at American College of Cardiology's 67th Annual Scientific Session; 2018 Mar 9-13; Orlando, FL.
Das A, Rasnake MS. Using TIMI score to provide high value care in low risk patient. Presented at Society of Hospital Medicine Annual Meeting; 2017 May 1-4; Las Vegas, NV.
Ensor ML, Rasnake M. Personal matters: A look at the evolving way we schedule interviews. Presented at Association for Hospital Medical Education Institute; 2017 May 9-12; New Orleans, LA.
Isang EI, Dewald JB, Rasnake MS, Heidel RE. . Presented at 58th American Society of Hematology Annual Meeting and Exposition; 2016 Dec 3-6; San Diego, CA.
Top