The Department of Medicine
Timothy J. Panella, MD
Associate Professor
Division of Hematology and Oncology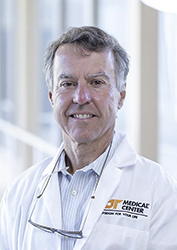 Research Focus
Initiatives include evaluation of mechanisms designed to lessen drug resistance in patients on cancer chemotherapy. In the field of breast cancer, projects are underway to evaluate the impact of treatment on sexuality and the physical changes that occur among women who participate in an exercise program following chemotherapy.
Clinical Focus
Breast Cancer Risk Reduction, Breast Cancer Treatment, Head and Neck Cancer
Education
Medical School
University of Tennessee, Memphis, 1983
Residency
Internal Medicine, University of Massachusetts in Worchester Memorial Hospital, Massachusetts, 1986
Fellowship
Hematology/Oncology, Duke University Medical Center, North Carolina, 1989
Certifications
Internal Medicine
Medical Oncology
Professional Affiliations
American Board of Internal Medicine
American Board of Internal Medicine - Oncology
Current Publications
Pannell TA, Panella TJ, Zaretzki RL.
The prognostic impact of determining treatment plans based on discordant metastatic tumor receptors on relapse. American Journal of Hematology / Oncology. 2016;12(9):14-20.
Current Presentations
Worth H, Panella T, Rasnake M, Bell C, Roberson P, King L. A longitudinal study assessing sexual dysfunction in postmenopuasal women with breast cancer undergoing adjuvan therapy Presented at San Antonio Breast Cancer Symposium; 2020 Dec 8-12; San Antonio, TX.
Top