The Department of Medicine
Timothy J. Panella, MD
Associate Professor
Division of Hematology and Oncology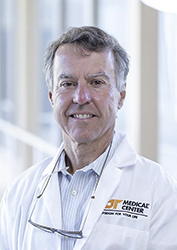 Clinical Focus
Breast Cancer Risk Reduction, Breast Cancer Treatment, Head and Neck Cancer
Education
Medical School
University of Tennessee, Memphis, 1983
Residency
Internal Medicine, University of Massachusetts in Worchester Memorial Hospital, Massachusetts, 1986
Fellowship
Hematology/Oncology, Duke University Medical Center, North Carolina, 1989
Certifications
Internal Medicine
Medical Oncology
Professional Affiliations
American Board of Internal Medicine
American Board of Internal Medicine - Oncology
Current Publications
Pannell TA, Panella TJ, Zaretzki RL.
The prognostic impact of determining treatment plans based on discordant metastatic tumor receptors on relapse. American Journal of Hematology / Oncology. 2016;12(9):14-20.
Orucevic A, Curzon M, Curzon C, Heidel RE, McLoughlin JM, Panella T, Bell J.
Breast cancer in elderly Caucasian women-An institution-based study of correlation between breast cancer prognostic markers, TNM stage, and overall survival. Cancers. 2015 Jul 31;7(3):1472-83.
Ranganath HA, Panella TJ.
Administration of ipilimumab to a liver transplant recipient with unresectable metastatic melanoma. Journal of Immunotherapy. J Immunother. 2015 Jun;38(5):211.
Current Presentations
Orucevic A, Curzon M, McLoughlin J, Geddam C, Heidel RE, Desai P, Panella T, Bell J. Breast cancer in elderly patients (70 years and older): The University of Tennessee Medical Center at Knoxville 10 year experience. Presented at World Congress on Breast Cancer; 2015 Aug 3-5; Birmingham, United Kingdom.
Top