The Department of Medicine
John P. Narro, MD
Clinical Associate Professor
Division of Infectious Diseases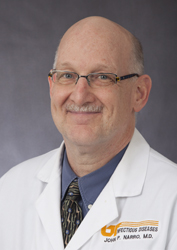 Education
Medical School
The University of Texas Medical School at Houston
Residency
The University of New Mexico Hospitals, Albuquerque, New Mexico, 1988
Fellowship
Infectious Disease, The University of Texas Health Science Center, Houston, TX, 1990
Certifications
Internal Medicine
Infectious Disease
Professional Affiliations
American Board of Internal Medicine
American Board of Internal Medicine - Infectious Disease
Current Publications
Swearingen SM, White C, Weidert S, Hinds M, Narro JP, Guarascio AJ.
A multidimensional antimicrobial stewardship intervention targeting aztreonam use in patients with a reported penicillin allergy. International Journal of Clinical Pharmacy. 2016 Apr;38(2):213-7. Epub 2016 Jan 14.
Current Presentations
Isang E, Narro J. Tracking to the surface: An unusual case of hydatid cystic disease. Presented at Society of Hospital Medicine Annual Meeting; 2016 Mar 6-9; San Deigo, CA.
Top
---
The University of Tennessee Graduate School of Medicine
1924 Alcoa Highway
Knoxville, Tennessee 37920 | 865-305-9290
Copyright © 2019