The Department of Medicine
Jeffrey B. Hirsh, MD
Clinical Assistant Professor
Division of Cardiology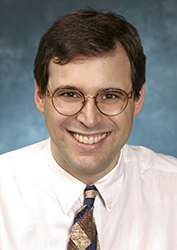 Clinical Focus
Cardiology, Cardiac Electrophysiology
Education
Medical School
University of Medicine and Dentistry, New Jersey Medical School, 1995
Residency
Harvard, Beth Israel Hospital Boston, Massachusetts, 1998
Fellowship
Cardiology, Emory University Hospital, Georgia, 2000
Cardiology, Oregon Health Sciences University, Oregon, 2002
Certifications
American Board of Internal Medicine
American Board of Internal Medicine - Cardiovascular disease
Current Publications
Osoro M, Lorson W, Hirsh JB, Mahlow WJ.
Use of an antimicrobial pouch/envelope in the treatment of Twiddler's Syndrome. Pacing and Clinical Electrophysiology : Pace. 2018 Feb;41(2):136-142. Epub 2018 Jan 16.
Dolacky SD, Wehber AA, Wortham DC, Roberts MA, Kaiser BR, Hirsh JB.
Nailed it: Conservative management of penetrating injury and potential infection of a cardiovascular implantable electronic device. Pacing and Clinical Electrophysiology: Pace. 2016 Dec;39(12):1412-1414. Epub 2016 Jun 19.
Current Presentations
Wehber A, Dorman R, Hirsh J. Shock now, ask questions later: Flecainide-induced atrial flutter vs. ventricular tachycardia. Presented at Tennessee Chapter of the American College of Cardiology; 2017 Nov 3-4; Nashville, TN.
Top