The Department of Medicine
Richard L. Gibson, MD
Associate Professor
Division of Internal Medicine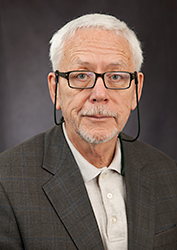 Clinical Focus
Neuropsychiatry, International Health, Travel Medicine
Education
Medical School
University of Kentucky School of Medicine, Lexington, 1970
Residency
Internal Medicine, Tulane University, New Orleans, 1975
Fellowship
Nephrology, Vanderbilt University Medical Center, Nashville, 1978
Psychiatry, Tulane University, New Orleans, 1991
Certifications
Internal Medicine
Nephrology
Psychiatry
Psychosomatic Medicine
Current Publications
Mendola A, Gibson RL.
Addiction, 12-step programs, and evidentiary standards for ethically and clinically sound treatment recommendations: What should clinicians do? AMA Journal of Ethics. 2016 Jun 1;18(6):646-655.
Current Presentations
Gibson RL. Practical psychiatry. Presented at Tennessee Chapter of the American College of Physicians Scientific Meeting (Invited Lecture); 2018 Oct 26-27; Chattanooga, TN.
Top
---
The University of Tennessee Graduate School of Medicine
1924 Alcoa Highway
Knoxville, Tennessee 37920 | 865-305-9290
Copyright © 2019