The Department of Medicine
Elizabeth Ergen, MD
Assistant Professor
Division of Dermatology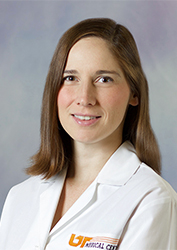 Education
Medical School
University of Tennessee College of Medicine, Memphis, TN, 2012
Residency
Vanderbilt University Medical Center, Nashville, TN, 2016
Certifications
American Board of Dermatology, 2016
Professional Affiliations
Society of Dermatology Hospitalists
American Academy of Allergy, Asthma and Immunology
Medical Dermatology Society
Dermatology Foundation
American Academy of Dermatology
Society for Investigative Dermatology
Current Publications
Dykes R, Ergen E, Martin T, Coleman N.
Exacerbation of Darier's disease with COVID-19. JAAD Case Rep. JAAD Case Rep. 2022 Sep;27:64-66. doi: 10.1016/j.jdcr.2022.06.037. Epub 2022 Jul 6.
Richey T, Foster JS, Williams AD, Williams AB, Stroh A, Macy S, Wooliver C, Heidel RE, Varanasi SK, Ergen EN, Trent DJ, Kania SA, Kennel SJ, Martin EB, Wall JS.
Macrophage-mediated phagocytosis and dissolution of amyloid-Like fibrils in mice, monitored by optical imaging. The American Journal of Pathology. 2019 May;189(5):989-998. Epub 2019 Feb 6.
Current Presentations
Dykes R, Ergen E. An Atypical Case of Primary Cutaneous Gamma Delta T-Cell Lymphoma. Presented at American Academy of Dermatology; 2022 March-25; Boston, Massachusetts.
Top