The Department of Medicine
John H. Dougherty, Jr., MD
Associate Professor
Division of Neurology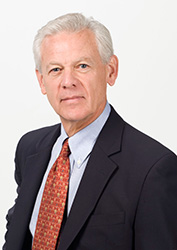 Education
Medical School
University of Tennessee, Memphis, 1973
Residency
Internal Medicine, University of Tennessee, Memphis, 1975
Neurology, New York Hospital, Cornell University Medical Center, 1979
Certifications
American Board of Neurology
Current Publications
Nicholas CR, McLaren DG, Gawrysiak MJ, Rogers BP, Dougherty JH, Nash MR.
Functional neuroimaging of personally-relevant stimuli in a paediatric case of impaired awareness. Brain Injury. 2014;28(8):1135-8.
Current Presentations
Crane MK, Sellers KA, Anthony RS, Knolton KE, Dougherty A, Dougherty JH. Differentiating frontotemporal dementia phenotypes in a clinical setting using the Computerized Self-Test (CST). Presented at 10th International Conference on Frontotemporal Dementias; 2016 Aug 31 - Sep 2; Munich, Germany.
Top
---
The University of Tennessee Graduate School of Medicine
1924 Alcoa Highway
Knoxville, Tennessee 37920 | 865-305-9290
Copyright © 2017