The Department of Medicine
John C. Callison, Jr., MD
Clinical Assistant Professor
Division of Pulmonary Medicine
Section of Critical Care Medicine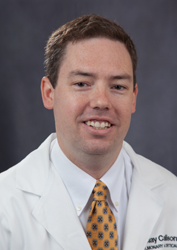 Education
Medical School
University of Cincinnati College of Medicine
Residency
Vanderbilt University
Fellowship
Vanderbilt University
Certifications
American Board of Internal Medicine
American Board of Internal Medicine - Pulmonary Medicine
American Board of Internal Medicine - Critical Care (Eligible)
Current Presentations
Angotti JA, Singh A, Turner JF, Callison C, Schriver E, Dudney T. Reviving the dying art: A case of pulmonary arterial hypertension diagnosed on physical exam. Presented at American Thoracic Society International Conference; 2017 May 19-24; Washington D.C., DC.
Singh A, Callison C, Dudney T, Mccormack M, Turner JF. A rare case of synchronous bilateral pulmonary neuroendocrine tumor with successful endobronchial debridement. Presented at American College of Chest Physician; 2016 Oct 22-26; Los Angeles, CA.
Osman M, Callison J, Duncan L. Establishing a safe and patient centric pathology reporting process for submission of multiple specimens obtained from a bronchoscopy procedure. Presented at College of American Pathologists, CAP16 The Pathologists' Meeting; 2016 Sep 25-28; Las Vegas, NV.
Morris JC, Callison JC, Aljadir D. Rare breast metastasis in a patient with atypical pulmonary carcinoid and a follicular hürthle cell thyroid nodule. Presented at American College of Physicians Internal Medicine Meeting; 2016 May 5-7; Washington, DC.
Turner JF, Dudney T, Sehgal R, Callison C, Browning RB, Parrish S. Rare and orphan lung diseases: Pulmonary calcification. Presented at 19th World Congress for Bronchology and Interventional Pulmonology / World Congress for Bronchoesophagology; 2016 May 8-11; Florence, Italy.
Alba Yunen R, Callison JC, Branca P. An unusual case of brain abscess complicating foreign body aspiration in an adult. Presented at 6th Asian Pacific Congress on Bronchology and Interventional Pulmonology; 2015 Nov 26-28; Bangkok, Thailand.
Top