The Department of Medicine
Sameh Attia, MD
Clinical Assistant Professor
Division of Pulmonary Medicine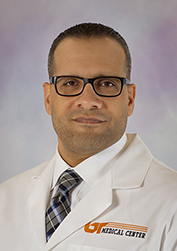 Education

Medical School
Ain Shams University Faculty of Medicine, Cairo, Egypt - 2001
Residency
Kingsbrook Jewish Medical Center, Brooklyn, NY - 2013
Fellowship
Pulmonary Disease and Critical Care Medicine, University of Tennessee Graduate School of Medicine, Knoxville, TN - 2019
Certifications
American Board of Internal Medicine
American Board of Internal Medicine - Pulmonary Disease
Current Presentations
Wong F, Branca P, Nodit L, Attia S. The case of the mistaken identity: A pulmonary hamartoma that was actually an amyloidoma. Presented at American Thoracic Society International Conference; 2019 May 17-22; Dallas, TX.
Kozlovski C, Attia S, Turner J. Rasburicase-induced methemoglobinemia. Presented at 48th Annual Critical Care Congress of the Society of Critical Care Medicine; 2019 Feb 17-20; San Diego, CA.
Dewald J, Attia S, Schriver EE, Dudney TM, Kravitz JN. Progression of pulmonary fibrosis in a patient with telomere disease previously treated with Danazol. Presented at CHEST Annual Meeting; 2017 Oct 28 - Nov 1; Toronto, Canada.
Top
---