The Department of Medicine
David N. Aljadir, MD
Clinical Assistant Professor
Division of Hematology and Oncology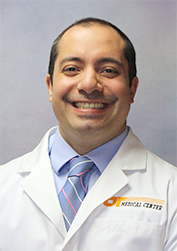 Education
Medical School
Jefferson Medical College, Philadelphia, PA - 2007

Residency
Internal Medicine, Christiana Hospital, Newark, DE - 2010

Fellowship
Hematology/Oncology, Roger Williams Medical Center, Providence, RI - 2013
Certifications
American Board of Internal Medicine
American Board of Internal Medicine - Hematology
American Board of Internal Medicine - Medical Oncology

Current Publications
Worth HA, Marlette Z, Aljadir D, Lands R.
Hereditary hyperferritinemia-cataract syndrome in 3 generations of a family in east Tennessee. Case Reports in Hematology. 2020 May 26;2020:2837573. eCollection 2020. Available in PubMed: Jun 2020.
Worth HA, Cochrane K, Aljadir D.
Follicular lymphoma presenting as hyperleucocytosis. BMJ Case Reports. 2020 Jan 21;13(1).
Current Presentations
Aljadir DN. Leukemia cutis as the presenting symptoms of acute myeloid leukemia. Presented at Heartland Hospital Medicine Conference; 2019 Aug 22-24; Lexington, KY.
Worth H, Cochrane K, Aljadir DN. Follicular lymphoma presenting as hyperleukocytosis. Presented at Annual Scientific Meeting of the Tennessee Chapter of the American College of Physicians; 2019 Oct 11-12; Franklin, TN.
Top
---
The University of Tennessee Graduate School of Medicine
1924 Alcoa Highway
Knoxville, Tennessee 37920 | 865-305-9290
Copyright © 2022