The Department of Medicine
Clinical Research
The Department of Medicine's research community assists faculty, residents, students and fellows with the mentoring, structure and skills necessary to design, prepare and present original high quality clinical research.
Our physicians are passionate in their desire to offer the most innovative, scientific-based clinical care to the patients they serve. Many of our physicians are principal investigators in National Clinical Trials offering innovative, cutting-edge therapies to selected patients. Other faculty are conducting investigator-initiated studies in areas such as muscle weakness in hospitalized patients and the utilization of aerosolized medications in novel ways.
The DOM sponsors Resident Research Day, an annual opportunity for our residents and fellows to submit abstracts of their research with selected individuals presenting oral abstracts. Winners are chosen by popular vote and awarded a cash prize.
First year residents participate in a dedicated two week evidence based medicine course learning the fundamental aspects of research terminology, statistics, epidemiology and study design.
Our department invites select residents to participate in the Research Review Committee, helping to ensure the quality of presentations, scholarly pursuits and Graduate School of Medicine support for travel, registration and lodging at state and national conferences. Research publication costs will be supported by the GSM beginning in 2019.
Many members of the DOM serve on editorial boards for a number of nationally and internationally recognized journals. Other members of the department serve on the advisory board for the Office of Clinical Trials, sponsored by University Health Systems.
Here is a link to a list of scholarly activities in the DOM in 2018.
---
Research Spotlight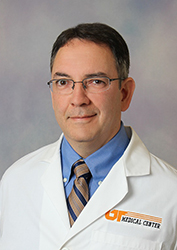 Francisco Soto, MD serves as Associate Professor in the Division of Pulmonary Medicine and Section of Critical Care Medicine. Dr. Soto is a member of University Pulmonary Medicine and Critical Care practice group. He enjoys all aspects of pulmonary, critical care and sleep medicine. He has a special interest in interventional pulmonary medicine and, specifically, pulmonary hypertension. He has been active in patient care and pulmonary hypertension research for over 15 years.
Dr. Soto has special expertise in the use of prostacyclin infusions, both intravenous and subcutaneous. Additionally, he has advanced skills in treating patients with connective tissue disease such as scleroderma and pulmonary hypertension related to left heart disease. Other areas of interest include cardiothoracic ultrasonography, cardiopulmonary hemodynamics and right heart catheterization.
Dr. Soto in a past Chair of the pulmonary vascular disease network of the American College of Chest Physicians. He has served on the editorial board of Advances in Pulmonary Hypertension, the official journal of the Pulmonary Hypertension Association.
Dr. Soto was selected by his peers for inclusion on the Best Doctors in America list from 2007 through 2018.