The Department of Family Medicine
Leonard N. Lamsen, MD
Assistant Professor
Program Director, Emergency Medicine Fellowship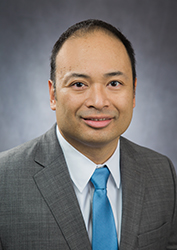 Clinical Focus
Emergency medicine, bedside ultrasound, and medical education
Research Focus
The major area of research in the Center involves assessment of the use of medical simulation in the improvement of physician performance and patient outcomes. Particular areas of study include use of objective structured clinical exams to teach safe opioid prescribing practices and informed consent. Other research interests include (1) evaluation of the use of point-of-care ultrasound and its impact on the delivery of medical care and (2) evaluation of the relationship of faculty emotional intelligence and teaching. For the latter, residents will rate faculty using the SETQ-smart teaching assessment tool. Faculty will also self-rate their teaching abilities and complete a burnout assessment. Dr. Lamsen and colleagues hypothesize that higher faculty emotional intelligence scores will positively correlate with higher teaching scores and with decreased faculty burnout rates. The initial faculty EI-Teaching study will be piloted with surgical faculty and then broadened to other subspecialties. The educational studies are in the discovery phase, but may ultimately be used to create a novel medical education curriculum that can be portable to and used by other medical schools.
Education
Medical School
Wayne State University
Residency
University of Tennessee Medical Center, Knoxville
Fellowship
Emergency Medicine, University of Tennessee Medical Center, Knoxville
Certification
Family Medicine
Current Presentations
Datta S, Budesa ZR, Klar ML, Roark JA, Lamsen LN. Can mobile EEG detect differences in expertise during CVL placement? Presented at *Annual American College of Surgeons Surgical Simulation Summit; 2020 Mar 12-14; Chicago, IL.
Top
---
The University of Tennessee Graduate School of Medicine
1924 Alcoa Highway
Knoxville, Tennessee 37920 | 865-305-9290
Copyright © 2019