GSM Office of the Ombuds
The purpose of the GSM Office of the Ombuds is to provide a confidential, safe space for GSM faculty, fellows and residents to discuss issues and perceived problems free from any possible retribution and to provide them an informal, independent, and impartial channel of problem resolution that is an alternative to formal processes.

Purpose
The purpose of the Ombuds Office is to:
Serve as an informal and impartial channel of problem resolution
Provide a confidential place for GSM faculty, fellows, and residents to discuss their experiences
Enable discussions free from retribution
Responsibilities of the Ombuds
Assist visitors in:
managing and resolving disputes
examining experiences relative to organizational policies and procedures
identifying appropriate resources and processes
generating and evaluating options for addressing situatins and concerns
The GSM Ombuds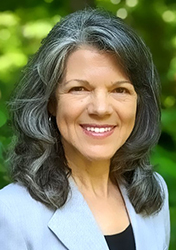 Joan R. Rentsch, PhD is currently Adjunct Professor at the GSM and Professor of Communication Studies at The University of Tennessee. Her previous positions include Associate Dean of Academic Affairs in the College of Communication and Information and Professor of Management in the Haslam College of Business. Dr. Rentsch has published in the areas of psychological processes of organizations, teams, cognition, and measurement of schemas. She has served on editorial boards, grant review boards, and on research review panels, and has garnered grant support from the National Science Foundation, the United States Office of Naval Research, the Air Force Office of Scientific Research, the United States Army and the Office of the Secretary of Defense. She has received training from the International Ombuds Association, and in Mindfulness-Based Stress Reduction (MBSR) from Duke University Integrative Medicine and Brown University, and is certified as an MBSR teacher by the University of Massachusetts Medical School.
Standards of Practice
Confidential
Off-the record conversations
Ombuds is a "Confidential Employee"
Not required to report Title IX issues
Exceptions to confidentiality: visitor grants permission, presence of an imminent risk of harm and as required by law
Independent
Not part of a GSM department/division/unit or compliance function

Reports to the GSM Dean, who does not influence the daily functioning of the Ombuds
Impartial
Aspires to understand and communicate the interests and rights of all parties

Refrains from advocating for anyone while seeking to advocate for all
Informal
The Office of the Ombuds is not:
an office of notice
part of any formal process
an adjudicative authority
an investigator
There are many reasons to visit the GSM Ombuds
For example, when you:
wish to discuss how to address a situation
find yourself wondering, what just happened?
are asking yourself, what do I do now?
It's appropriate to Direct Others to the Office
For example:
someone is expressing a complaint, and you are unsure what the complaint really is
if you understand the complaint, but you believe it should be discussed with someone else
Contact Us
Leave a confidential phone message or text:
(865)250-7533
email: jrentsch@utmck.edu
Visits are conducted via phone or Zoom
Types of Service Provided
Listening
Conflict Coaching
Facilitated Conversations
Mediation
Shuttle Diplomacy
Offering Referrals
Leadership Coaching
Providing Information about Policies, Rules, Rights and Procedures
Exploring "How things work around here"

GSM Ombuds provides a safe place for you to explore your options.
The University of Tennessee Graduate School of Medicine
1924 Alcoa Highway
Knoxville, Tennessee 37920 | 865-305-9290
Copyright © 2022