The Department of Anesthesiology
Ralph Lydic, PhD
Professor
Robert H. Cole Endowed Professor of Neuroscience
Co-Director of Anesthesiology Research
Anesthesia Research Division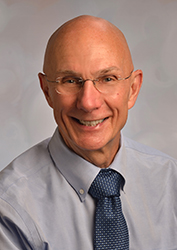 Research Focus
My research program aims to help understand the cellular and neurochemical mechanisms regulating states of consciousness and state-dependent changes in physiology.
Research Statement
The goals of Lydic's research are elucidating the mechanisms by which sleep, opioids, and volatile anesthetics modulate pain and depress breathing and arousal. The evolutionary perspective and current data support the view that neurons generating sleep and wakefulness preferentially modulate the ability of opioids, hypnotics, and anesthetics to alter pain, behavioral affect, and states of waking consciousness.
Honors
Past President, North American Sleep Research Society
Julien F. Biebuyck Endowed Professor of Anesthesia, The Pennsylvania State University, College of Medicine
Bert La Du Endowed Professor of Anesthesiology, University of Michigan
Distinguished Alumni Award, Graduate School of Biomedical Sciences, Texas Tech University
Excellence in Research Award, American Society of Anesthesiologists
Chairman of the External Advisory Council for the National Space Biomedical Research Institute (NSBRI), Houston, TX
Chairman, Advisory Panel, Institute of Circulatory and Respiratory Health, Canadian Institute of Health
Robert H. Cole Endowed Professor of Neuroscience Associate Chair for Research, Anesthesiology, Professor of Anesthesiology and Psychology Joint Faculty, Oak Ridge National Laboratory, University of Tennessee, Knoxville, TN
Professional Affiliation
External Advisory Council Chairman, National Space Biomedical Research Institute
Book Chapters Published
Kass RE, Lydic RB: Preface. In: Dynamic Neuroscience: Statistics, Modeling, and Control, Cham: Springer, 2017.
Hillman D, Kaw R, Lydic R: Sleep and anesthesia: Different states with shared pathophysiological traits. In: Sleep Disorders Medicine, New York: Springer, 143-151, 2017.
Lydic R, Keifer JC, Baghdoyan HA, Craft R, Angel C. Principles and Practice of Sleep Medicine, 6th Edition. New York: Elsevier; c2016. Chapter 24, Opiate action on sleep and breathing; p. 260-269.
Lydic RB, Baghdoyan HA. Sleep and Pain. Washington DC: IASP, c2015. Chapter 5, Neurochemical mechanisms mediating opioid-induced REM sleep disruption; p. 101-122.
Current Publications
Zhang X, Baer AG, Price JM, Jones PC, Garcia BJ, Romero J, Cliff AM, Mi W, Brown JB, Jacobson DA, Lydic R Ph.D, Baghdoyan HA.
Neurotransmitter networks in mouse prefrontal cortex are reconfigured by isoflurane anesthesia. Journal of Neurophysiology. 2020 Apr 29. [Epub ahead of print]
Kurdziel-Adams G, Macfie J, Kors S, Fortner KB, Towers CV, Lydic R.
Opioid use in pregnancy: Borderline features and hepatitis C virus. Personality Disorders. 2019 Nov 14. Available in PubMed: Dec. 2019. [Epub ahead of print]
O'Brien CB, Baghdoyan HA, Lydic R.
Computer-based multitaper spectrogram program for electroencephalographic data. Journal of Visualized Experiments. 2019 Nov 13;(153). Available in PubMed: Dec. 2019.
Lu Y, Li YW, Wang L, Lydic R, Baghdoyan HA, Shi XY, Zhang H.
Promoting sleep and circadian health may prevent postoperative delirium: A systematic review and meta-analysis of randomized clinical trials. Sleep Medicine Reviews. 2019 Aug 22;48:101207. [Epub ahead of print]
McLain JM, Alami WH, Glovak ZT, Cooley CR, Burke SJ, Collier JJ, Baghdoyan HA, Karlstad MD, Lydic R.
Sleep fragmentation delays wound healing in a mouse model of type 2 diabetes. Sleep. 2018 Nov 1;41(11):zsy156. Epub 2018 Aug 11.
Bourdon AK, Spano GM, Marshall W, Bellesi M, Tononi G, Serra PA, Baghdoyan HA, Lydic R, Campagna SR, Cirelli C.
Metabolomic analysis of mouse prefrontal cortex reveals upregulated analytes during wakefulness compared to sleep. Scientific Reports. 2018 Jul 25;8(1):11225.
Angel C, Glovak ZT, Alami W, Mihalko S, Price J, Jiang Y, Baghdoyan HA, Lydic R.
Buprenorphine depresses respiratory variability in obese mice with altered leptin signaling. Anesthesiology. 2018 May;128(5):984-991.
Lydic R, Baghdoyan HA, May AL.
Neurochemistry of anesthetic states. Methods in Enzymology. 2018;603:237-255. Epub 2018 Mar 5.
Current Presentations
McLain JM, Cooley CR, Brandi JP, Burke SJ, Collier JJ, Baghdoyan HA, Lydic R, Karlstad MD. Sleep fragmentation delays wound healing in obesity-induced type 2 diabetic mouse model. Presented at 41st Annual Conference on Shock; 2018 Jun 9-12; Scottsdale, AZ.
Top