The Department of Anesthesiology
Ralph Lydic, PhD
Professor
Co-Director of Anesthesiology Research
Anesthesia Research Division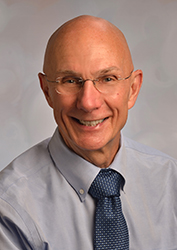 Research Focus
My research program aims to help understand the cellular and neurochemical mechanisms regulating states of consciousness and state-dependent changes in physiology.
Research Statement
The goals of Lydic's research are elucidating the mechanisms by which sleep, opioids, and volatile anesthetics modulate pain and depress breathing and arousal. The evolutionary perspective and current data support the view that neurons generating sleep and wakefulness preferentially modulate the ability of opioids, hypnotics, and anesthetics to alter pain, behavioral affect, and states of waking consciousness.
Honors
Past President, North American Sleep Research Society
Julien F. Biebuyck Endowed Professor of Anesthesia, The Pennsylvania State University, College of Medicine
Bert La Du Endowed Professor of Anesthesiology, University of Michigan
Distinguished Alumni Award, Graduate School of Biomedical Sciences, Texas Tech University
Excellence in Research Award, American Society of Anesthesiologists
Chairman of the External Advisory Council for the National Space Biomedical Research Institute (NSBRI), Houston, TX
Chairman, Advisory Panel, Institute of Circulatory and Respiratory Health, Canadian Institute of Health
Robert H. Cole Endowed Professor of Neuroscience Associate Chair for Research, Anesthesiology, Professor of Anesthesiology and Psychology Joint Faculty, Oak Ridge National Laboratory, University of Tennessee, Knoxville, TN
Professional Affiliation
External Advisory Council Chairman, National Space Biomedical Research Institute
Book Chapter Published
Lydic R, Keifer JC, Baghdoyan HA, Craft R, Angel C. Principles and Practice of Sleep Medicine, 6th Edition. New York: Elsevier; c2016. Chapter 24, Opiate action on sleep and breathing; p. 260-269.
Lydic RB, Baghdoyan HA. Sleep and Pain. Washington DC: IASP, c2015. Chapter 5, Neurochemical mechanisms mediating opioid-induced REM sleep disruption; p. 101-122.
Current Publications
Zhang H, Wheat H, Wang P, Jiang S, Baghdoyan HA, Neubig RR, Shi XY, Lydic R.
RGS proteins and G-alpha-i2 modulate sleep, wakefulness, and disruption of sleep/wake states after isoflurane and sevoflurane anesthesia. Sleep. 2016 Feb 1;39(2):393-404. Epub 2015 Nov 6.
Current Presentations
Angel CL, Alami W, Mihalko S, Baghdoyan HA, Lydic R. Buprenorphine-induced respiratory depression varies as a function of leptin-related genotype in normal weight and obese mice. Presented at Experimental Biology; 2016 Apr 2-6; San Diego, CA.
Bourdon AK, Spano G, Bellesi M, Tononi G, Cirelli C, Serra PA, Baghdoyan HA, Lydic R, Campagna SR. Untargeted metabolomics reveal state-dependent neurochemical changes in frontal association (FrA) and motor cortex (M1) of C57Bl/6J (B6) mouse. Presented at Experimental Biology; 2016 Apr 2-6; San Diego, CA.
Angel C, Alami W, Mihalko S, Baghdoyan HA, Lydic R. Sex, leptin status, and obesity modulate buprenorphine-induced respiratory depression in mice. Presented at American Physiological Society: Cardiovascular, Renal and Metabolic Diseases: Physiology and Gender; 2015 Nov 17-20; Annapolis, MD.
Top