The Department of Anesthesiology
Jerry L. Epps, MD
Clinical Associate Professor
Chair Emeritus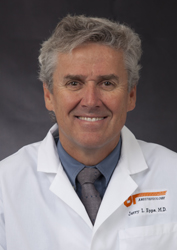 Clinical Focus
Pediatric/Cardiology Anesthesiology
Education
Medical School
University of Kentucky College of Medicine

Residency
Walter Reed Army Medical Center, Washington, DC 1981-1983
Fellowship
Children's Hospital National Medical Center, Washington, DC, Pediatric Anesthesiology, 1983
Walter Reed Army Medical Center, Washington, DC, Cardiovascular Anesthesiology, 1984
Certifications
Diplomate, American Board of Anesthesiology, 1984
American Board of Anesthesia Oral Examiner
Honors and Awards
Alpha Omega Alpha Honor Society, Graduated first in medical school class of 117
Recipient - Albert B. Chandler Award, Kentucky Medical Insurance Award, Lange Medical Award, Dripps Award of Outstanding Fellow in Pediatric Anesthesia
"Excellence in Teaching" - Presented by the Anesthesiology Residents, 2009
Professional Affiliations
Senior Board Examiner. American Board of Anesthesiology; 1993-Present.
Member Board of Appeals Panel for Anesthesiology, Accreditation Council for Graduate Medical Education; 2006- 2012
Anesthesiology Review Panel. American Board of Anesthesiology; 2009-2010.
Abstract Reviewer. 2009 International Anesthesia Research Society 83rd Clinical and Scientific Congress; San Diego, CA.
Board Member, University Health Systems Incorporated; 2009
Co-Chair, Performance Improvement Committee, University Health Systems Incorporated, 2009
Chairman Contract and Finance Committee University Physicians Association, 2008 - Present
Medical Director Operating Rooms University of Tennessee Medical Center, 1998 – Present
Book Chapter Published
Epps JE, Craft RM. Faust's anesthesiology review, 4th ed. St. Louis: W.B.Saunders Company; c2014. Chapter 101, Type, screen and crossmatch of red blood cells; p. 230-231.
Current Publications
Kheterpal S, Healy D, Aziz MF, Shanks AM, Freundlich RE, Linton F, Martin LD, Linton J, Epps JL, Fernandez-Bustamante A, Jameson LC, Tremper T, Tremper KK.
Incidence, predictors, and outcome of difficult mask ventilation combined with difficult laryngoscopy: A report from the multicenter perioperative outcomes group. Anesthesiology. 2013 Dec;119(6):1360-9.
Current Presentations
Epps JL. PQRS and anesthesia quality measures in Tennessee. Presented at Tennessee Society of Anesthesiologist Meeting; 2015 Feb 7; Nashville, TN.
Huffstutter P, Hines L, Heidel RE, Klar M, Roark J, Rowan C, Rose Z, Epps J. The implementation of surgical crisis checklists in perioperative team simulation. Presented at The American College of Surgeons' 7th Annual Meeting; 2014 Mar 21-22; Chicago, IL.
Top