About the Graduate School of Medicine
Board of Visitors
Who They Are, What They Do
The UT Graduate School of Medicine formed the University of Tennessee Graduate School of Medicine Board of Visitors (BOV) in 2009 and inaugurated members with an Honorary White Coat Ceremony. The Board's mission is to advise and assist the Dean in strategic planning, the development and implementation of short- and long-term goals, community outreach and service, and the garnering of financial support for education, research and clinical care. The Board members were selected based on their expertise, interests in medical education and research, and ability to help the Graduate School of Medicine accomplish its mission.
Dr. Joe Johnson
Chairman, President Emeritus
University of Tennessee

Deborah Diddle
Certified Public Accountant
Deborah L. Diddle, CPA

Mike Edwards
CEO
Knoxville Chamber

Randal Dabbs, MD, FACEP, FAAFP
Founder, President and CMO
TeamHealth MidSouth

W. Logan Hickman, Jr.
Executive Vice President
People's Bank of the South

Leonard Hines, MD, FACS
Co-Director
UT Center for Advanced Medical Simulation

Edward Jessup
President and CEO
Jessup and Associates, Inc.

Dale Keasling
President and CEO
Home Federal Bank

Doug Kennedy
CEO
Johnson and Galyon

J. Ford Little
Lawyer
Woolf, McClane, Bright, Allen & Carpenter, LLC

Tom Looney, Sr.

Patrick McFarland, MD
Fourth Year Resident
Anesthesiology Residency Program

Anne McKinney
Attorney
Anne M. McKinney, PC, Attorney at Law

David Moon
President
Moon Capital Management, LLC

Joseph F. Rainey, DDS
Clinical Instructor
General Dentistry

Marilyn Roddy
Director of Major Gift Development
Pellissippi State Community College

Bill Williams
Retired
Rhyne Clock Company
---
The Board @ Work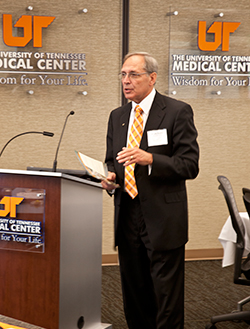 The Board of Visitors meets twice per year in February and September, and members also meet within their committees throughout the year. They play an integral role in branding the UT Graduate School of Medicine as well as strengthening philanthropic efforts.
Dean Neutens, faculty and staff of the Graduate School of Medicine commemorated the inaugural Board members with an Honorary White Coat Ceremony, organized by Eddie Moore, MD, Associate Dean, Graduate Medical and Dental Education, to welcome them into the family of health care. During the ceremony, the Hippocratic Oath was recited, as is done in a traditional White Coat Ceremony. The Graduate School of Medicine welcomes the Board of Visitors to our family and looks forward to working with them in the years to come.
Top
---
Residency Programs
Fellowship Programs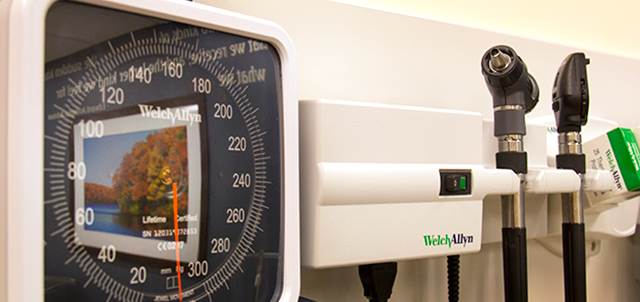 Headlines
The University of Tennessee Graduate School of Medicine
1924 Alcoa Highway
Knoxville, Tennessee 37920 | 865-305-9290
Copyright © 2019